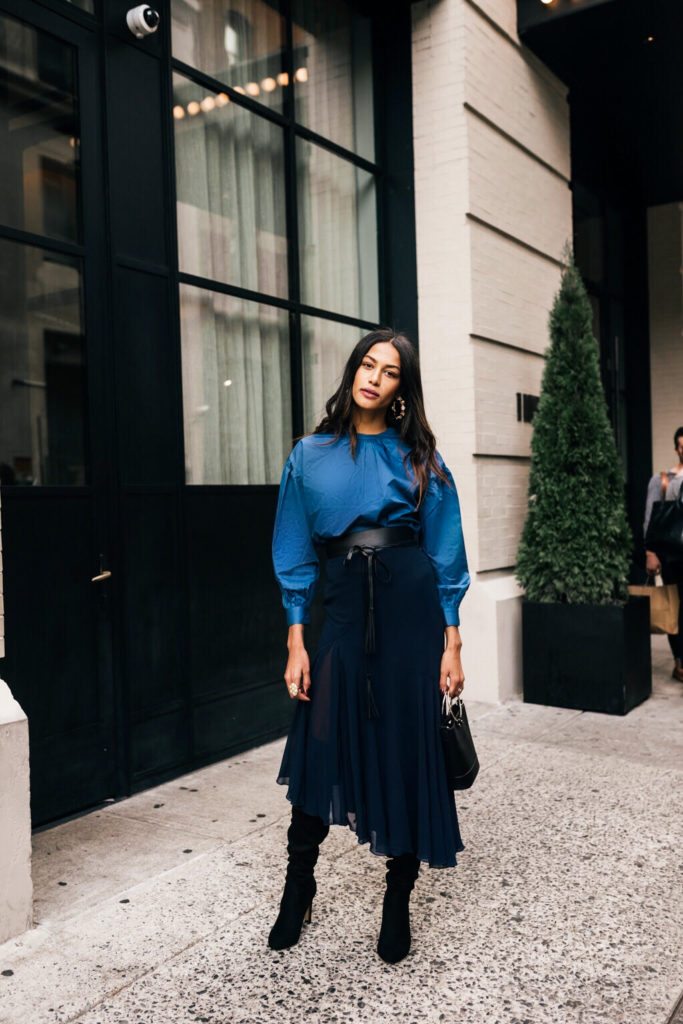 Happy Thursday! I just got home from attending NYFW and I am still soaking in the huge amount of inspiration I got. I think, and I don't think many people will disagree with me here, that Fashion Week is a time to get outside of your style comort zone (I did a post on how to do that here). There were so many amazing outfits and it was really inspiring to be surrounded by so many creative people.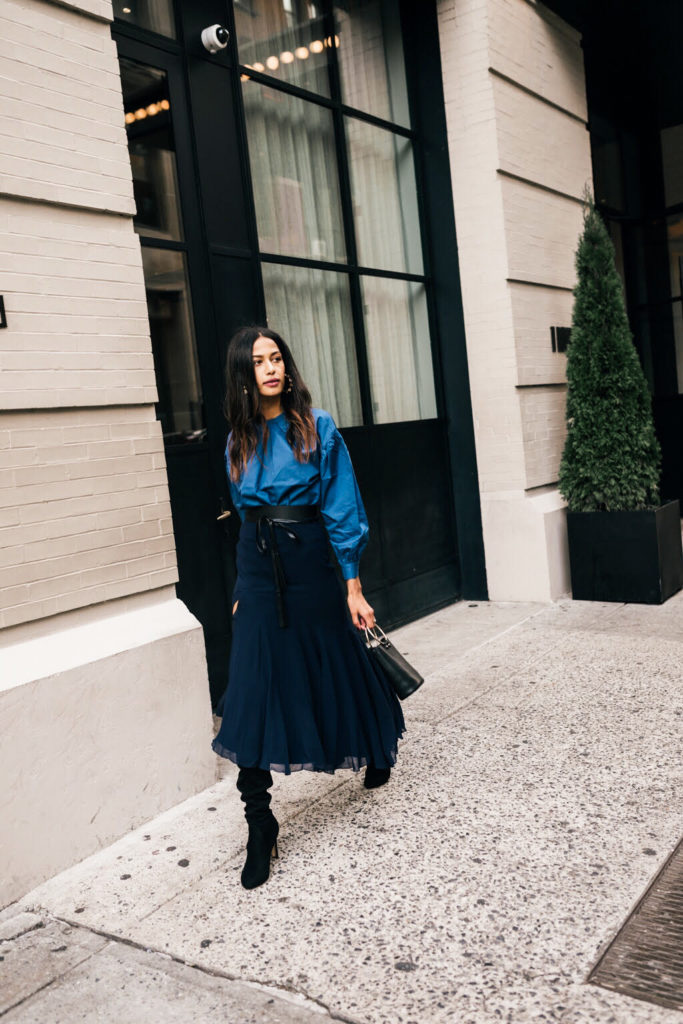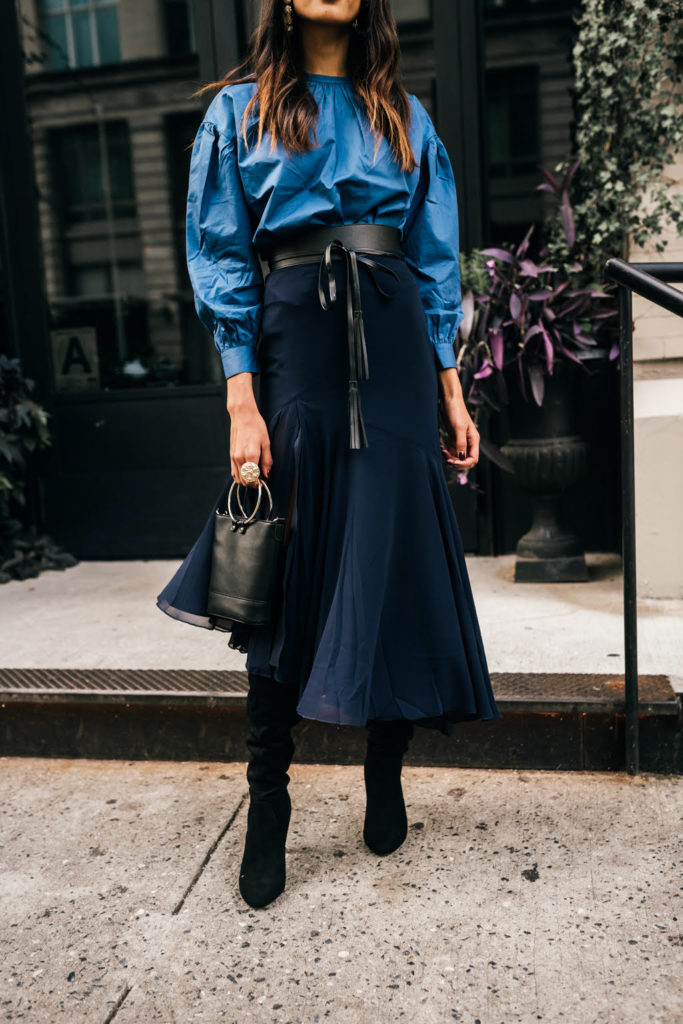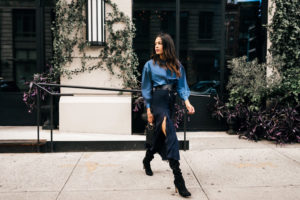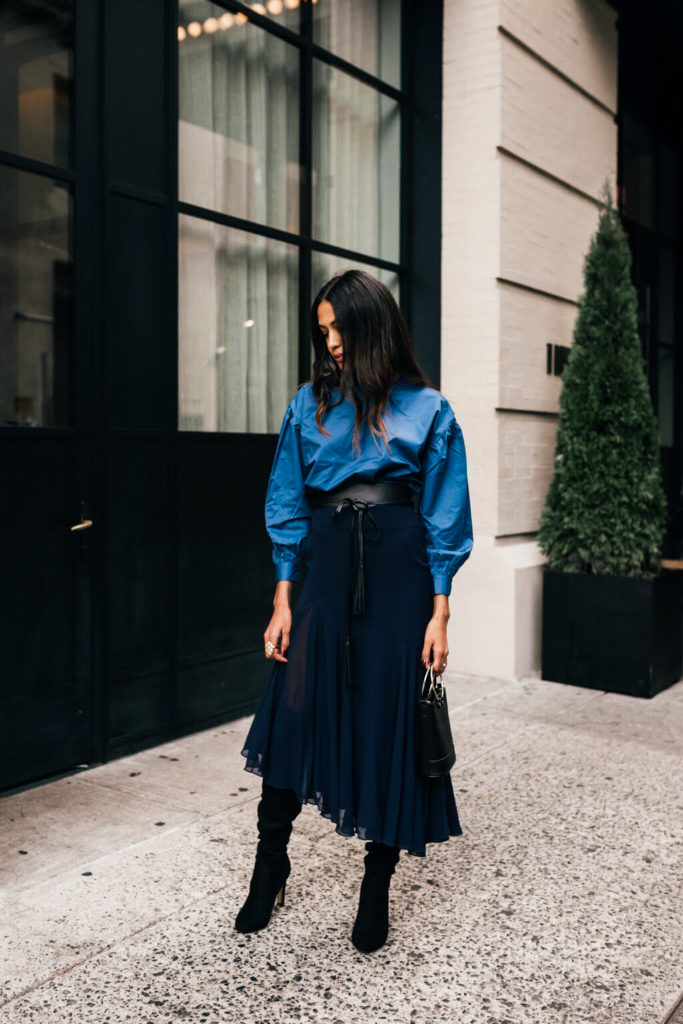 This outfit was really fun to put together. I really wanted to do a monochromatic look and when I saw this bold navy skirt from Express I loved the longer length, sheer layered pieces, and asymmetrical hemline. The skirt is really flattering because it's fitted around the waist and the thigh high slit shows off the leg when you walk. It really looks and feel like a high end piece.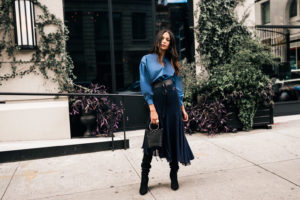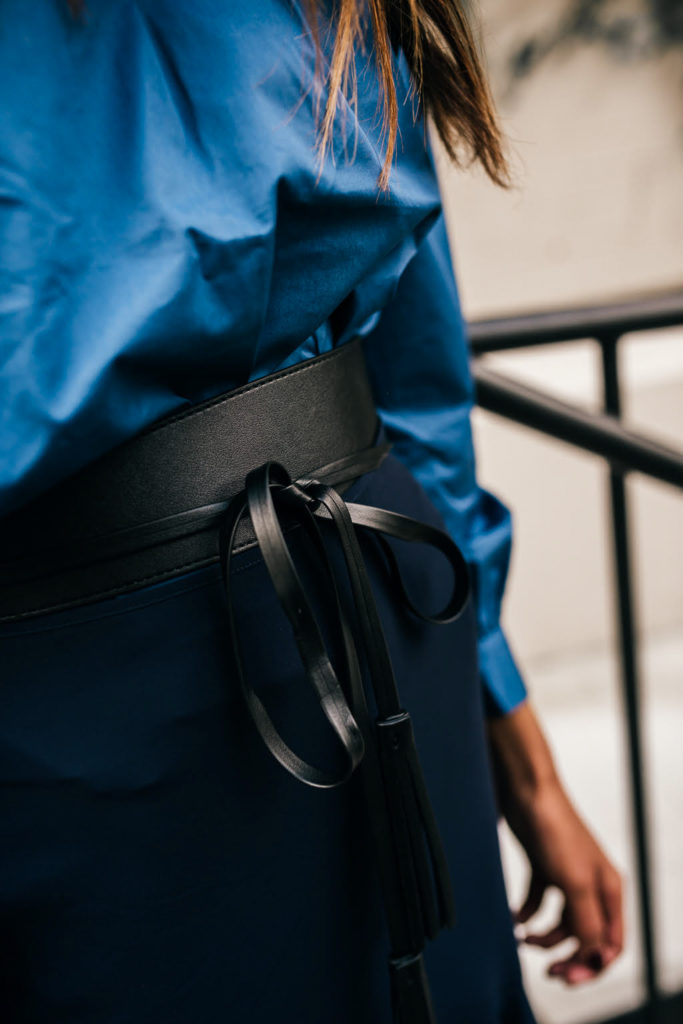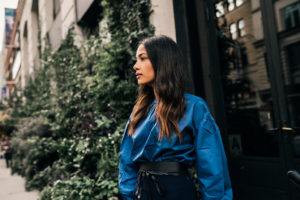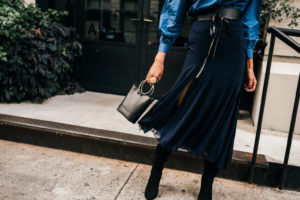 I paired it with this bold blue blouse and added this belt to break up the blue on blue. This belt is a piece I recently added to my wardrobe but have gotten so much wear out of already. Wide belts are huge right now, and I love the obi style of this one. It's an easy way to break up an outfit or add a waist on pieces like shirt dresses or blazers. The belt over jacket thing is going to be everywhere this fall and winter – try it with a blazer like this gray plaid one to get the look.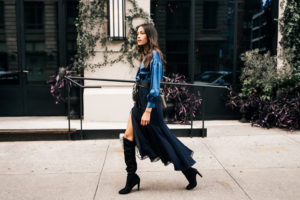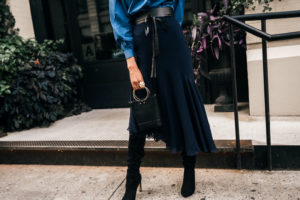 BLOUSE  //  SKIRT  //  BELT  //  OTK HEELED BOOTS  //  O-RING HANDLE BAG  //  EARRINGS
I started my day off at the DryBar in Tribeca for a blowout. I got the MaiTai, which is my go-to style of loose beach waves. It was so nice to wake up relax while someone else did my hair for the day. Afterwards, I took a quick trip a few blocks away to Laughing Man coffee for a much needed double espresso.The shop donates 100% of the profits to charity and the espresso totally hit the spot.
I had lunch at BoCafe in SoHo, which is a Vietnamese restaurant with a French Twist. I ordered a fresh ginger shot (I'm addited!) and a green juice (the Politically Green, to be exact) and the Avocado Toast. For dessert I got the dairy-free chocolate mousse made with avocados instead of cream and it was SO good!
After lunch, I met up with Paige Nicolle at the NoMo hotel in SoHo to shoot this look. I actually met up with Jaclyn the night before at the NoMo Kitchen for drinks and it is such a beautiful hotel! I ordered the Blue Field cocktail with Citadelle Gin, Blueberry Lavender Cordial, Lime Sparkling Wine, Lavender Bitters and it was amazing. The hotel bar is gorgeous, and the entire hotel is really gorgeous with lots of marble, neon signs, and lounge areas.
I had so much fun meeting up with friends during fashion week. I got to spend time with some of my dearest friends and make new ones too! I actually wore this look to the rewardStyle rooftop party at La Sirena which is something I look forward to attending every year. It's always fun to meet the people I've become friends with over the internet in real life! I got to meet Camilla from Navy Grace, Sarah from Sassy Red Lipstick, Amy Ann from Straight A Style, and a fellow Dallas blogger Jaclyn who I had so much fun with.
I can't wait to share more of my fashion week experiences with you guys. It was such a whirlwind week, so check back for more throughout the week! And head into an Express store and use code "1699" to receive $25 off your in-store purchase of $100+ –  now thru 10/15. Exclusions apply, see site for details.
Photos by Paige Nicolle