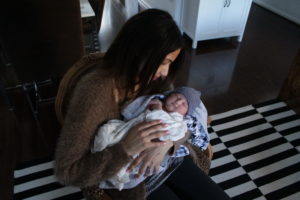 On January 26th I had an appointment with my midwife at the birth center. I was a week past my "due date" and was getting really anxious about having Beau. I wanted to meet him already! Everyone had been speculating that I would go into labor before of my due date so the fact that I was already a week over made me pretty impatient. At that doctors appointment, they performed a "non stress test" to ensure that Beau was still doing fine. I basically had to sit in a chair for 20 minutes with bands that had little monitors across my stomach and push a button every time I felt the baby move or kick. The test came out fine so even though I was a week overdue, I could have probably gone another week without any complications. After the test was done, we (Kiel came to every single prenatal appointment with me, which was amazing) met with a midwife who told us about some things that we could do to get the labor process started. She said I could take a labor tincture and / or do a stretch and sweep, or go to the hospital where they have a gel that encourages labor to begin. I chose the sweep and labor tincture. At 1:27 the midwife did the stretch and sweep (which is basically exactly what it sounds like – it just kind of kickstarts your body into releasing labor inducing hormones) and the midwife said I was dialated to about a 3. Afterwards Kiel and I went to a compounding pharmacy and picked up the labor tincture and then picked up dinner for us, my mother in law (who was staying with us for the birth), and Luna and came home. We ate dinner, put on a movie and just relaxed. At 5 PM I decided to start taking my labor tincture. I had to put 20 drops of the tincture in a little bit of juice and drink it every hour for four hours. At 9 PM after my last dose, I didn't feel anything besides a little mild cramping and some Braxton hicks contracts that were steady but still clocking in at about 20 minutes apart, if not longer.
At around 10:30 I was in bed with Kiel and we were watching TV when the topic of whether he should go to work the next day came up. He said that since it didn't seem like the tincture or the sweep worked, we should plan in him going in to work. I felt a little discouraged when he said that, but I agreed that it was best so that he could save his time off for after the baby was born. Shortly after that conversation, we turned the lights off to go to sleep when I noticed that the contractions were coming on closer together and stronger. I tried to force myself to get some sleep, but after about two minutes I immediately knew that I was in labor. I told Kiel what was happening and then I tried again to go back to sleep, thinking the more intense part of labor was still a ways away, but after 15 minutes of trying to sleep I couldn't even lay still. I got out of bed and started walking around our room a little bit to ease the pain and see if the contractions would subside. They were pretty intense at that point but I just focused on breathing really slowly through them and imagined my body pushing the baby down. Your first reaction when you experience that much pain is to tense up but every time I had a contraction I focused on going inward into myself, closing my eyes, and relaxing. It was really difficult to do but since I had practiced for weeks before giving birth it kind of came naturally to me. I originally thought that I would spend the earlier part of labor in bed trying to relax through the contractions, but lying down was really painful and I couldn't relax that way. I tried a couple of different positions like wrapping my arms around Kiel and swaying, which helped a little bit. But ultimately I found I was most comfortable on my knees. So every time I would feel a contraction coming on I would get on my knees in front of our bed with my arms draped over the side and breathe through it. In between contractions I would walk around a little bit and joke with Kiel. After about 45 minutes of doing that, I told Kiel to call the midwife and let her know that I was in labor and could no longer talk through the contractions – a sign that I should be heading to the birth center soon. The midwife was at the hospital with another patient but another midwife from the practice was already at the birth center so she told us to go ahead and head on over there. I changed into a pair of jeans and got my shoes on in between contractions, which at that point were very, very strong. As we were leaving, Kiel went into the guest bedroom where my mother in law was staying and told her that I was in labor and we were leaving for the birth center. She was sooo excited and walked downstairs to the front door with us. Right before I was about to go through the front door I had a contraction and had to stop in the doorway and lean up against the wall. My MIL rubbed my lower back for the duration of the contraction, which was amazing! On the way out of our neighborhood we had to drive through a really rough patch of snow that had frozen into huge speedbump-like mounds of ice. I saw them in front of us just as a contraction was coming and looked at Kiel and said (full-disclosure, it was probably a scream) "Stop! Wait until I'm done with this contraction!" Which he did, thankfully. Once that contraction was over with we continued on our way to the birth center.
As we were driving, the contractions started getting very, very intense. So intense that when I felt them coming on I could no longer sit down in my seat. Every 1 ½ – 2 minutes, I had to push up on my legs and arch my back as the contractions came on, which was pretty difficult in the car. Thanks goodness it was in the middle of the night and no one else on the road could see me because I could only imagine how ridiculous I looked! About halfway to the birth center I started moaning through every contraction, which is so strange to think of yourself doing that but somehow making those low primal noises releases some deep tension in your body and eases the pain a little bit. Although I could tell that Kiel was really starting to get worried that we wouldn't make it, and I was too. At this point I could feel a lot of weight and pressure in my pelvis like there was a bowling ball in it, and it felt like I wouldn't be able to close my legs. I knew that our baby was making his way down the birth canal and that we only had a couple of minutes until he would be born! As we were pulling up the birth center I had a strong and lengthy contraction and I was so sure that with one more push I would give birth that I instinctively pulled down my pants(!!!) and reached down to get ready to catch him. I know all of that sounds crazy, but it's really strange how all of that was so involuntary. It was like something took over my body and I was on autopilot. Luckily, we had just pulled into the birth center and Kiel ran around and opened my door and when I looked at his face I could tell he was thinking "Oh my god! Your pants are down! You are crazy! We need to get inside now!!!!" He helped me walk (which was a full on waddle at that point) through the parking lot towards the birth center, but right before we got to the door I felt a huge contraction coming on and I immediately went down onto my hands and knees (the only position I was comfortable in). The midwife saw us and rushed outside and with the help of her and Kiel I was able to get into a room where I went straight for the side of the bed and again went on my hands and knees. I remember one of the nurses taking off my shoes and pants and I ripped off my sweater because I was so sweaty at that point. The nurse helped me onto the bed and I had one more contraction and then my water broke, which actually relieved a lot of the pressure/pain. The midwife was really calmly trying to listen to the baby's heartbeat with a little monitor and a nurse was getting a birthing tub ready because in my birth plan I had written that I wanted to have a water birth. I remember thinking "yeah…that's not going to happen". . I think they thought that I still had a ways to go, but I knew the time was coming and one more contraction later I reached down and said "I can feel the baby's head!!" I think that's when everyone realized how far along I was. I had one more really long intense contraction that I literally roared like an animal through. The surge started off so incredibly intense and then I felt my body squeeze even harder. My legs were shaking, it felt like every muscle in my body was engaged.
Kiel told me that the head was out and that made me feel so encouraged, I knew the hard part was already over with. The midwife had me change positions and lay on my side, which was really hard considering the head was already out! I remember thinking "You've got to be crazy! How am I supposed to move right now!?" But with Kiel's help I managed to change positions on my side and while he was holding one of my legs up I had another contraction and pushed and Beau was born! I immediately reached down to hold him up to my chest and I remember crying and saying "My boy! My baby boy!" He started crying so loudly, which made me laugh and smile and cry because I was so relieved to hear that his lungs were so strong and he was so vigorously full of life. I felt like I was in a whirlwind of endorphins and bliss and as I held him in those first few moments it was literally like the entire world faded away and it was just Beau and me. After the umbilical cord stopped pulsing Kiel cut it and shortly thereafter I delivered the placenta. It all happened so quickly, that entire night felt like a whirlwind of so many strong emotions. It was such an unexpected but beautiful way to bring our son into the world. After a couple of hours the sun started rising and Kiel ran out to pick up some bagels and cream cheese for us for breakfast. We hung out for a while until I felt strong enough to take a quick shower, and then I got dressed and we slowly got our stuff together and by 10 AM that morning we were back at home.
I will never forget the look on Luna's face as we pulled up. I remember seeing her looking out the front window when I got out of the car. My mother in law had dressed her in one of her party dresses and she was waving to us from inside. She look so big and grown up, and when she saw us pull out Beau's car seat you could tell she was so nervous to meet him for the first time. She had her head down and even though she was smiling she started fidgeting with her hands. Her little 3 year old sweetness and honesty and anxiousness completely broke my heart and made it swell simultaneously (isn't is something how often that happens as a parent?). I had to look away because I started crying and I didn't want her to think I was sad. Finally I was ready to go inside and she immediately wanted to give Beau a hug. It's amazing how quickly our little family of three adjusted to being a family of four. I used to stay up at night worried about how I'd cope with taking care of two kids. I was worried that Luna would be upset at us for bringing another baby into the mix. I cringed at the thought of being sleep deprived and navigating through simultaneous toddler temper tantrums and the demands of a newborn. Now, none of these thoughts scare me. We still have good days and not so good days, but it's kind of like shaking a snowglobe, everything gets so chaotic and you feel like things are going to be swirling around your head forever, but before you know it everything is calm and your world has settled down again. Kiel and Luna's relationship has deepened as they get to spend more one on one time together, she has cute little nicknames for him and they play made up games that no one can figure out besides the two of them. Luna has become a genuinely amazing helper to me with taking care of the baby, and he is absolutely mesmerized by his older sister. She is the only one who can make him laugh his little baby chuckle, and sometimes during the day the house gets really quiet and I find Luna curled up next to Beau in his crib, holding his hand and smiling at him. I am constantly in awe of how beautiful life can be.
Happy Mother's Day to all of the wonderful moms out there.
*If you are curious about drug-free birthing, I highly recommend this book. I used the hypnobirth method and although I wasn't able to fully utilize the techniques I learned because my labor was so rushed, I truly believe that it helped me relax and enjoy my labor experience. My labor wasn't overwhelmingly painful and after I was done I immediately knew I would without a doubt that I would have another drug free birth if I ever got pregnant again. It is such a beautiful and empowering experience. I know it's not for everyone, but if you're thinking about it at all it's definitely worth looking in to and considering! 🙂