*This post is sponsored by Zappos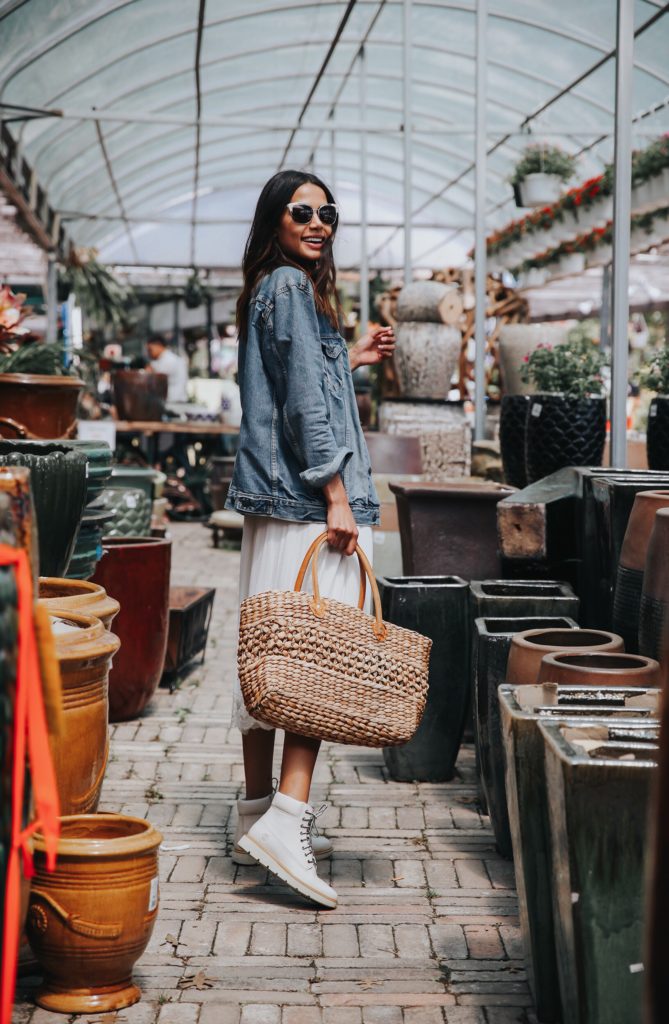 The weather in Dallas has been beautiful lately, so we spent the day cruising around the farmer's market! This has long been one of our favorite family pastimes. As an avid amateur chef, I love seeing all of the fresh in-season goodies that are in stock.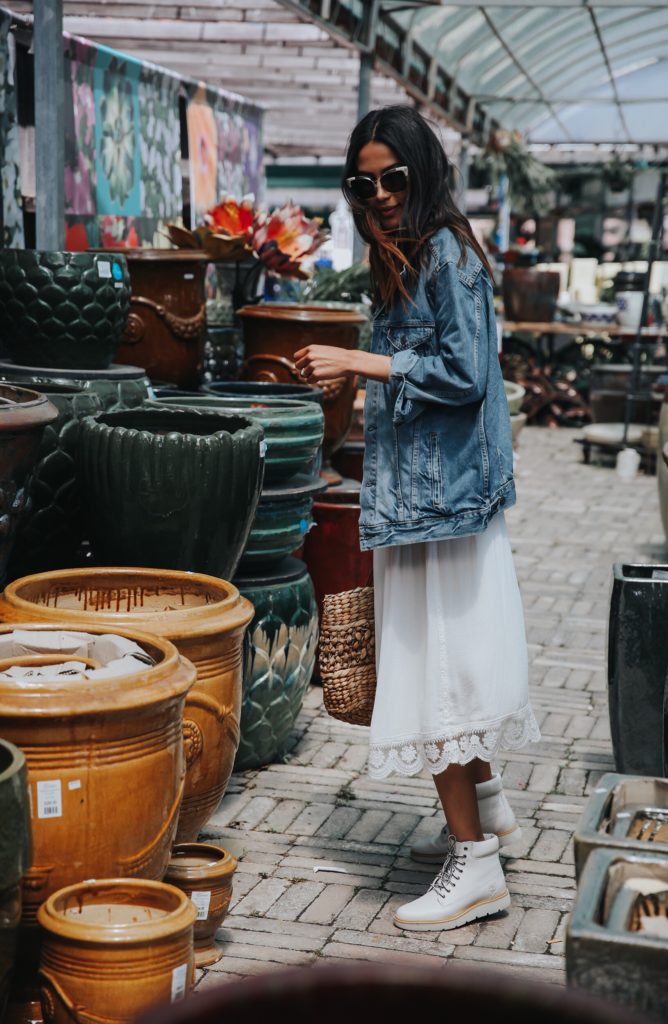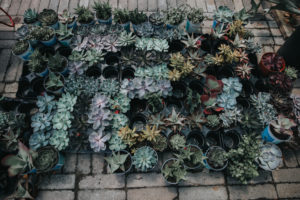 We started off the day looking at rows and rows of beautiful plants and flowers. I have a notoriously black thumb, but Kiel is amazing at keeping plants alive and I've been dreaming of having a backyard garden for the kiddos to play in.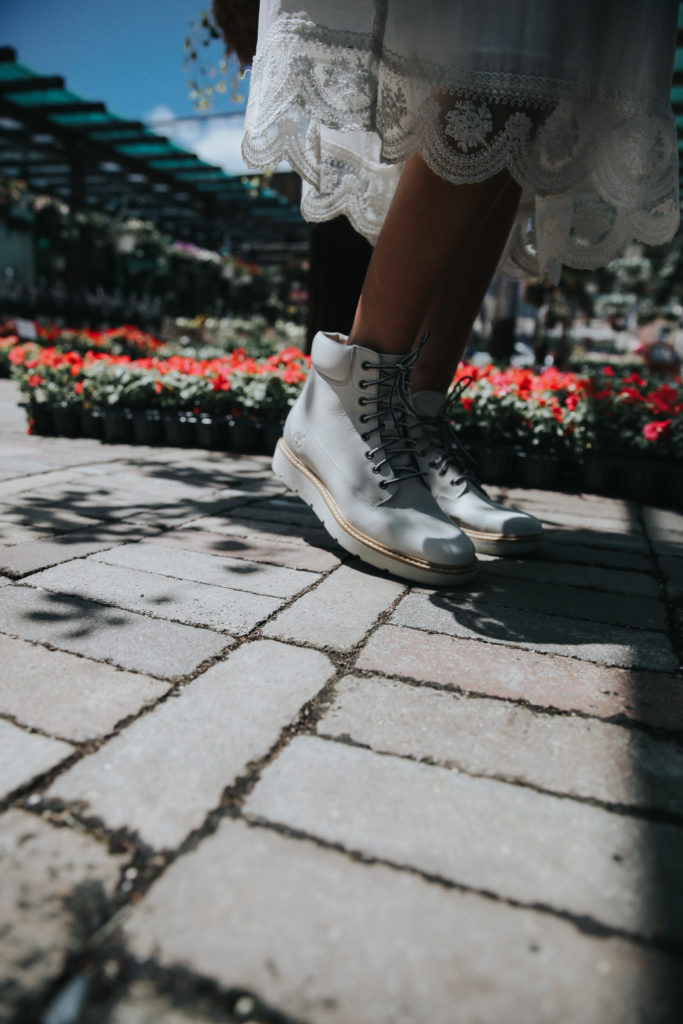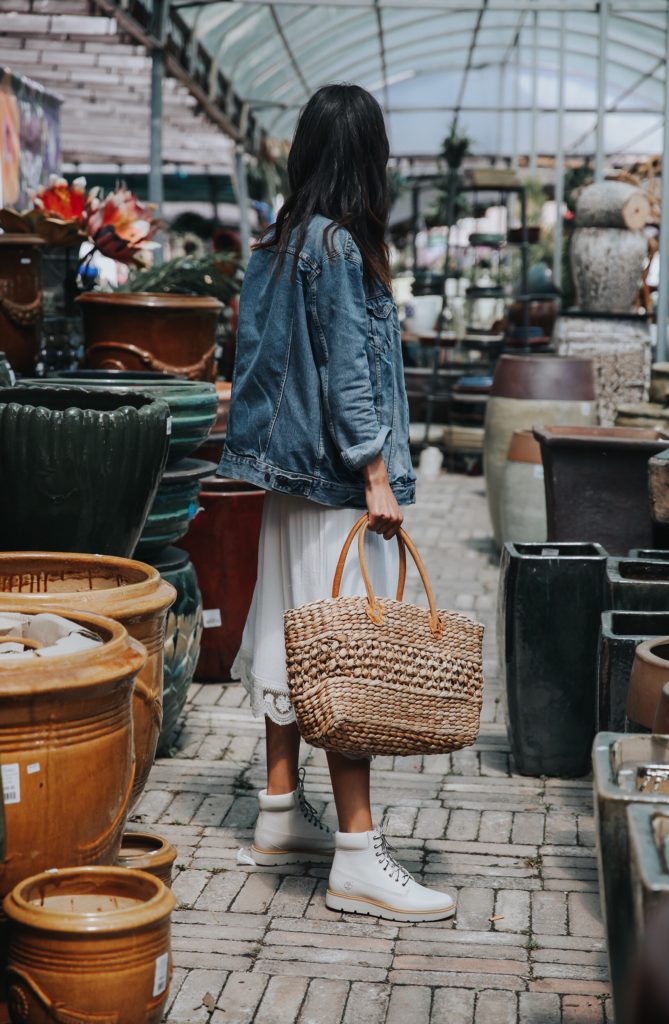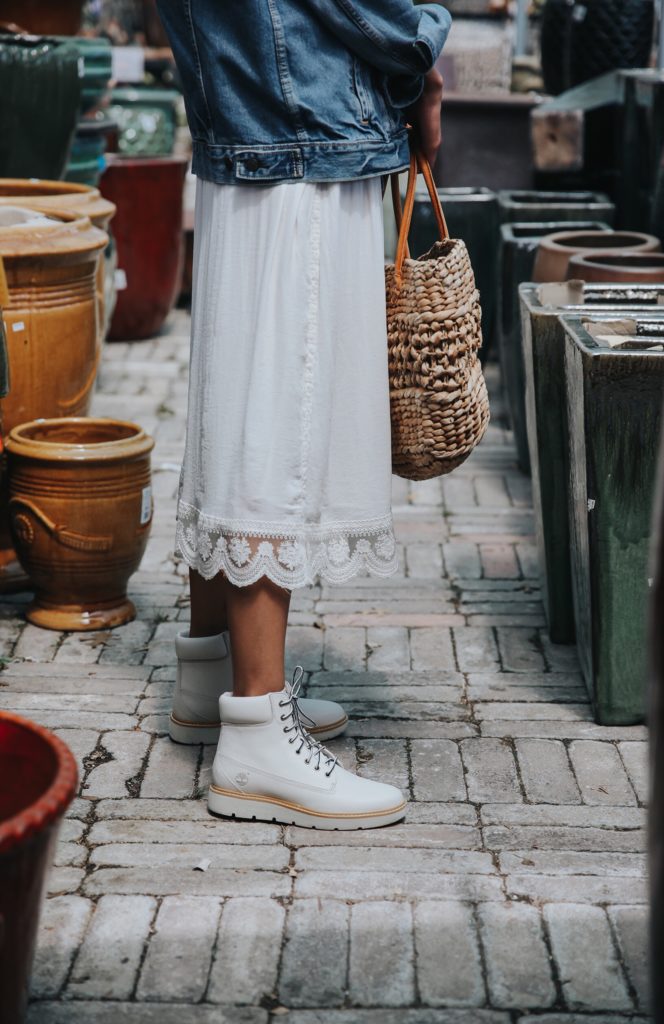 I knew we would be out and about for the entire day, so I wore one of my favorite comfortable looks: a breezy white dress, an oversized denim jacket, and comfy boots. I've long been a fan of Timberland shoes and was so excited when I saw the Kenniston style – it's a feminine take on the classic Timberland boot. I love the creamy white color and guys, they are so comfortable!
Now that I'm a mom of two, my footwear choices lean toward the practical. I love good boot in the winter, but I knew this pair would be able to transition into the warmer months as well. I've also been wearing them paired with joggers and a silky cami for running errands – I love how versatile they are.
Their kid's boots are so cute too!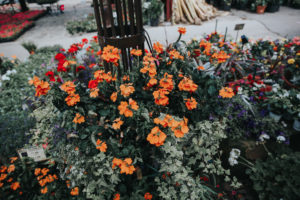 How pretty are all of these flowers? I wanted to take them all home with us.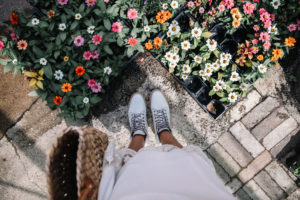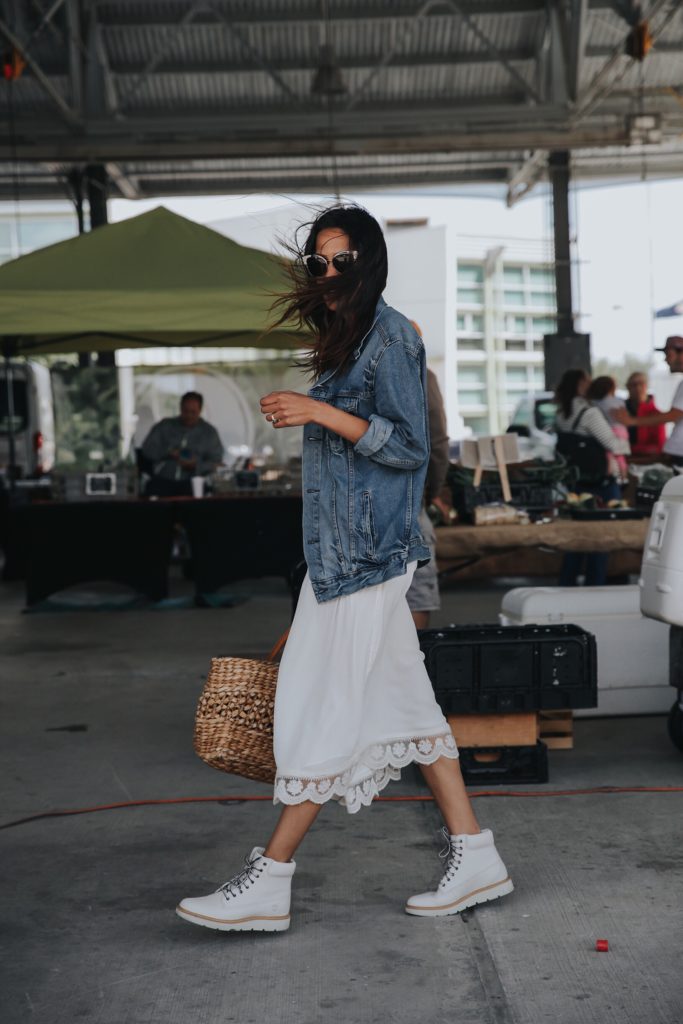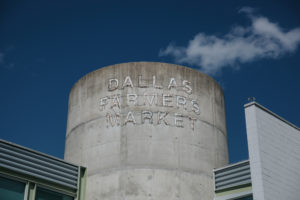 I ordered them from Zappos as soon as I saw them online and a couple days later they were on my feet – gotta love that fast (and free) shipping! As someone who is always on the go, I have a newfound appreciation for stores that truly make online shopping easy. Zappos has a 365 day return policy and amazing customer service.
True story: I needed to chat customer service for a Zappos order that got sent to the wrong address when we were in the middle of our move (oops!), and the customer service agent was giving me restaurant recommendations in Dallas! How awesome is that!?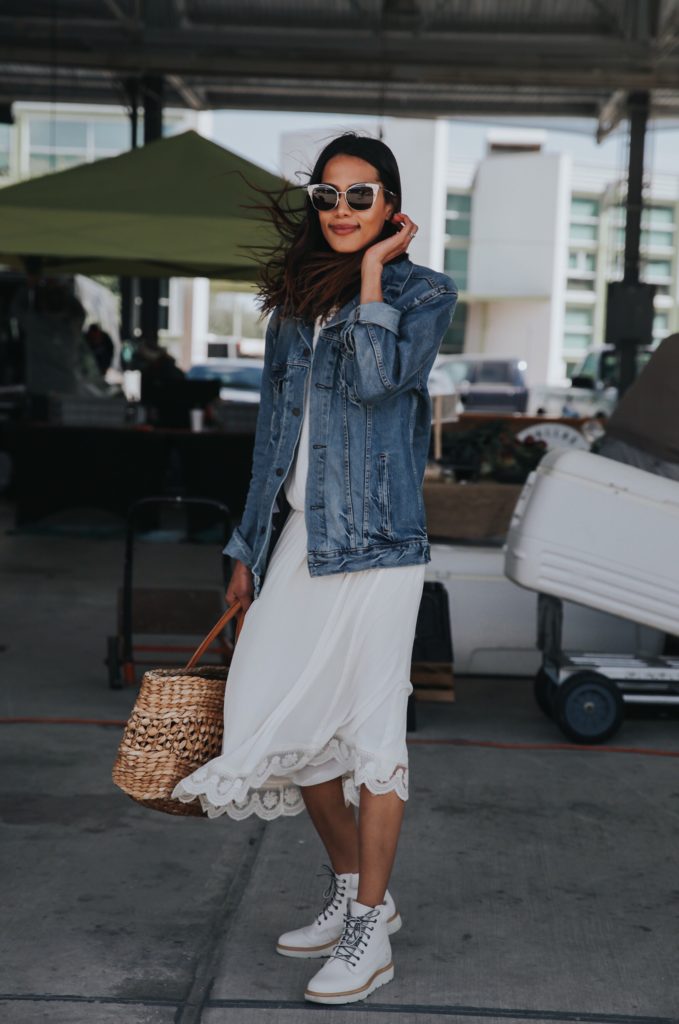 After walking through the flower shops for a while, we headed over to the main market. It was so windy that day! I always pretend like I have a list in my head of what I'm looking for, but I can't help being temped by all of the pretty produce and fresh treats.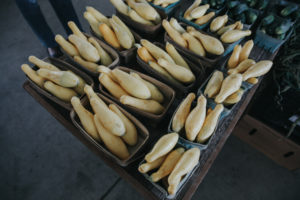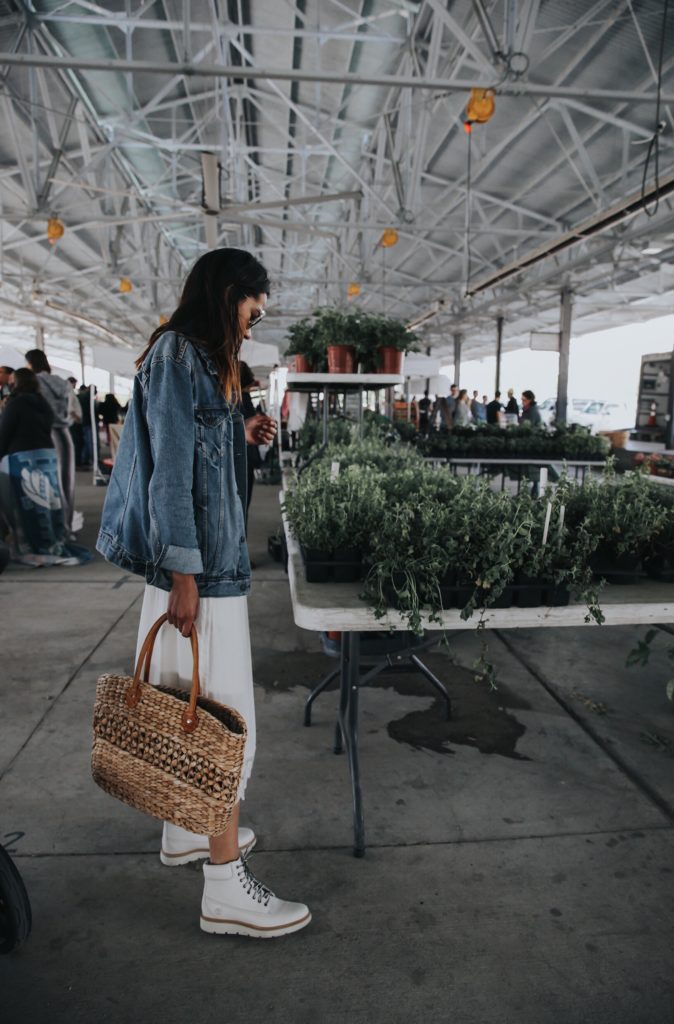 We bought the most delicious wild blackberries, some fresh rosemary and zucchini for a ratatouille dinner, and a mini strawberry creme cake for dessert. It was such a nice way to spend a Saturday!
What is your favorite way to wear boots this spring?