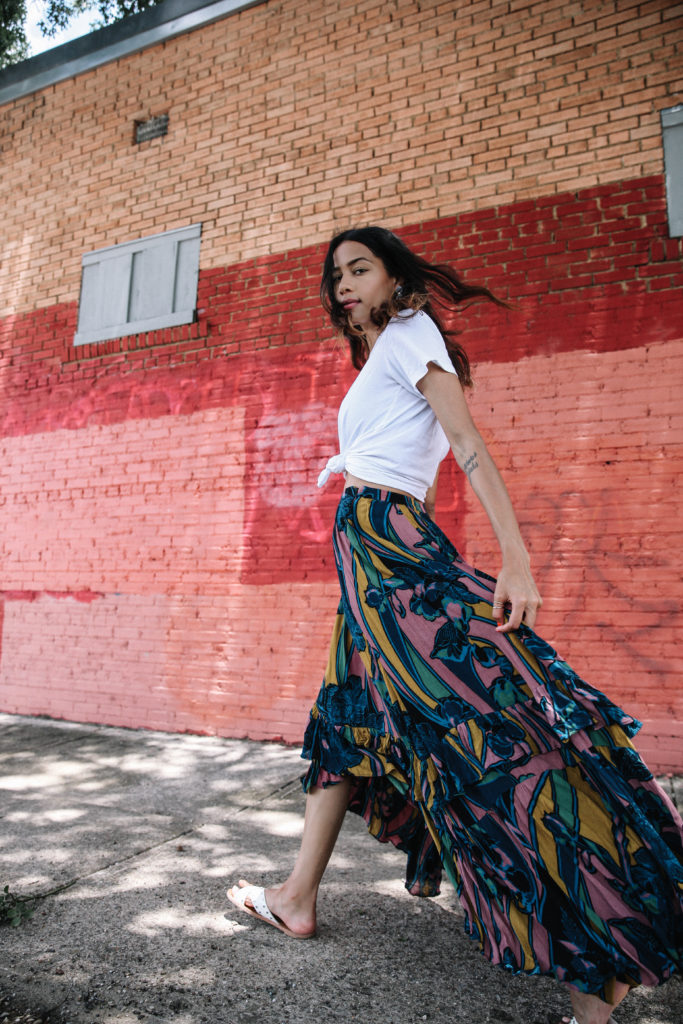 I'm going to preface this post by stating that, in the spirit of delving fully into this topic, I purchased and wore my first ever maxi skirt this past weekend. That's right, my first. I'm not sure what made me add it to my online shopping cart, or more curiously, avoid maxi skirts for my entire adult life. But here I am fully maxi-skirted, newly converted, and here to share some tips on how to get out of your fashion comfort zone, and why you should try it!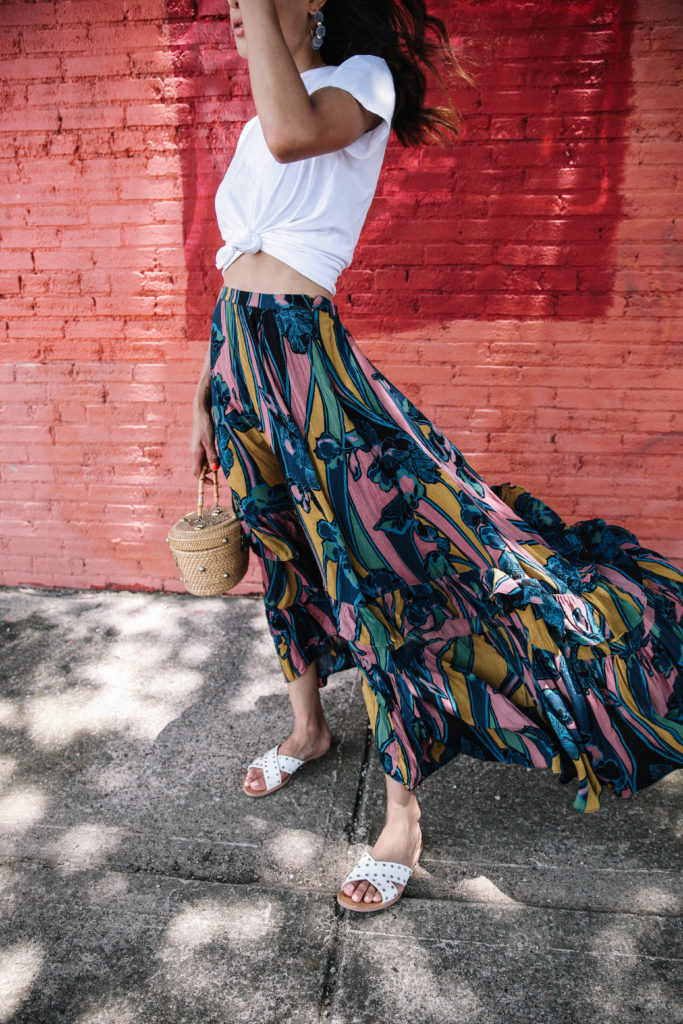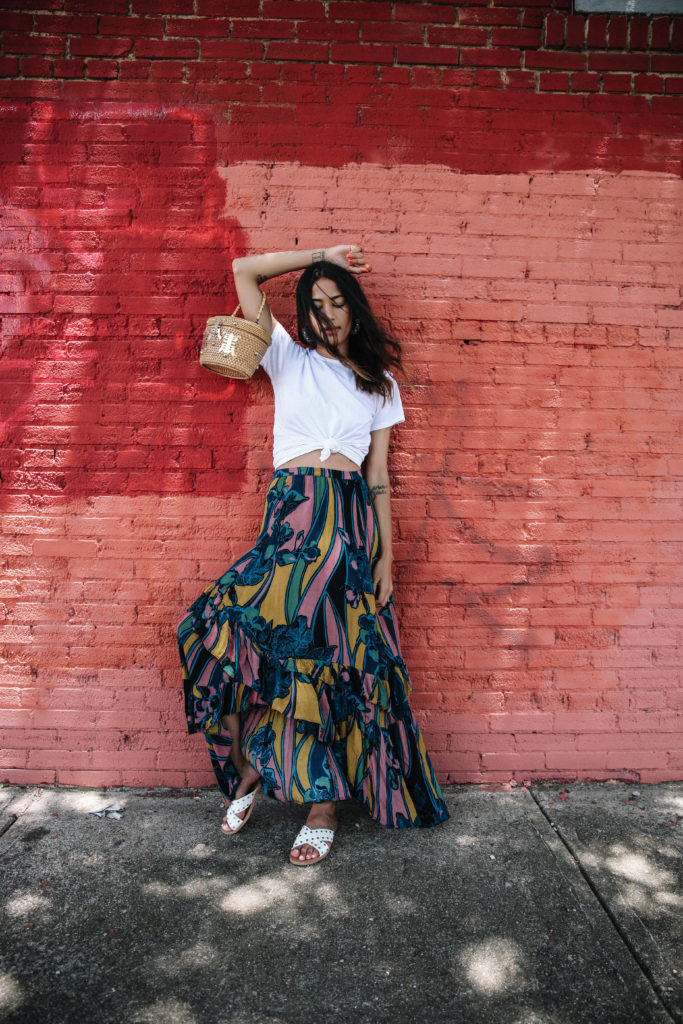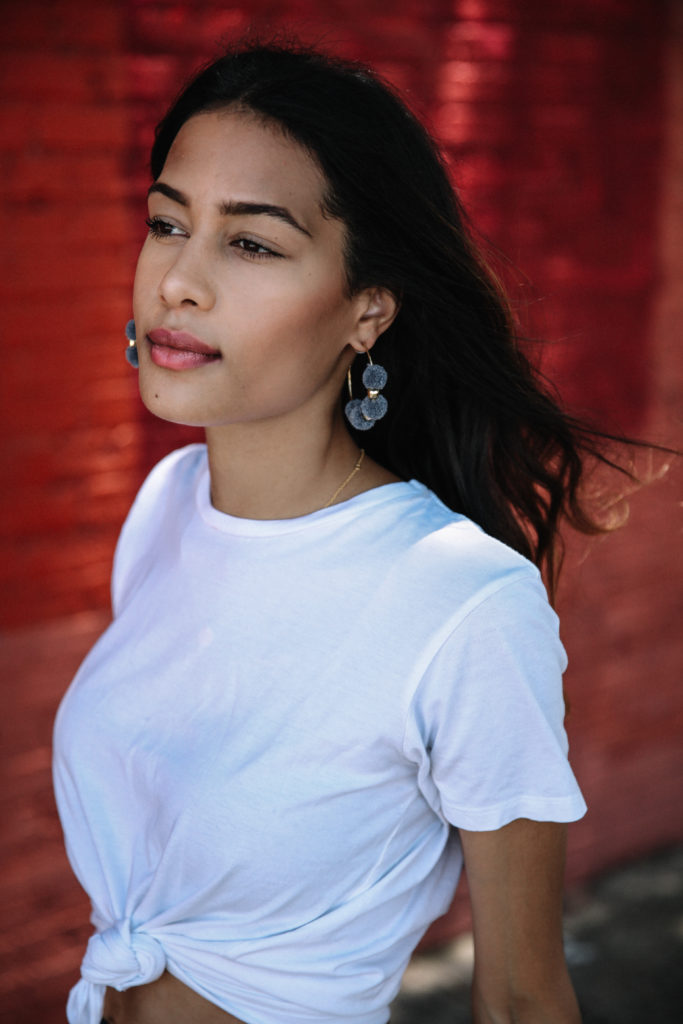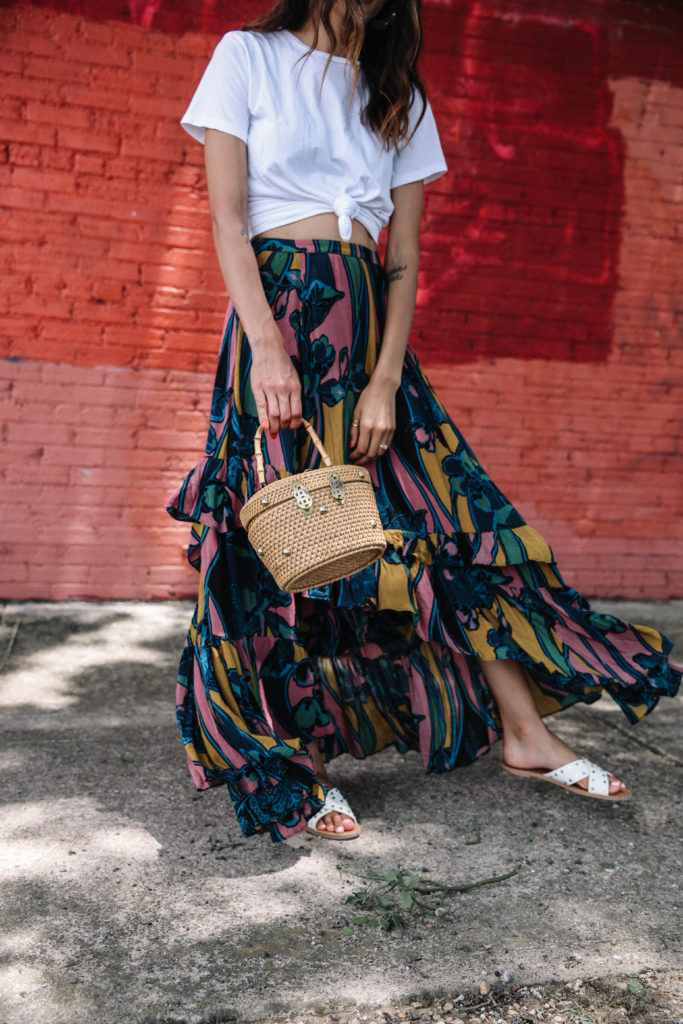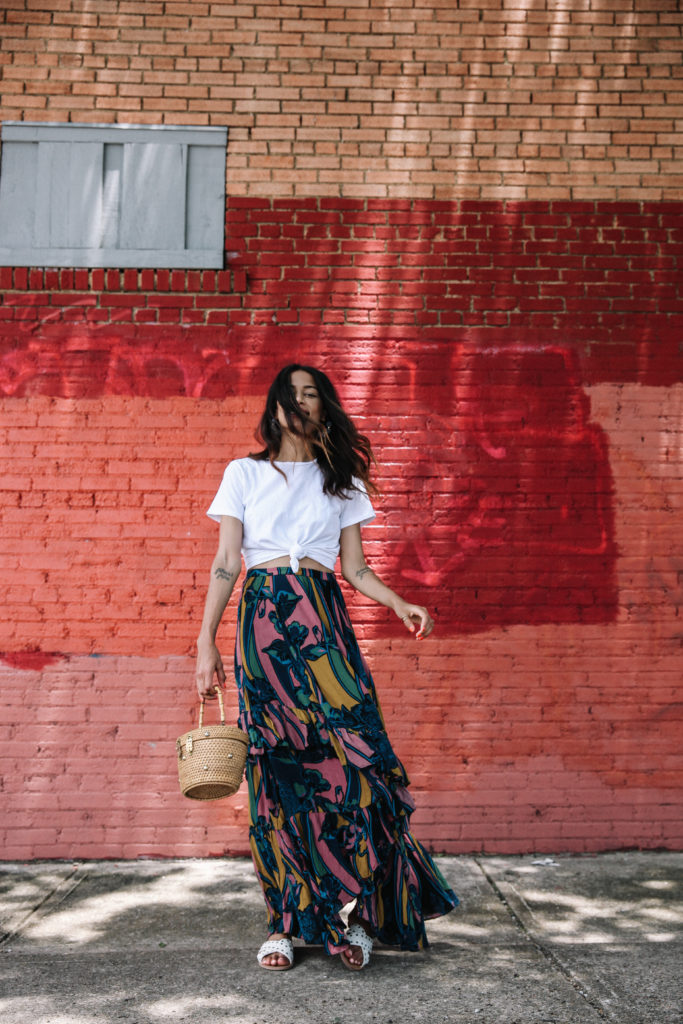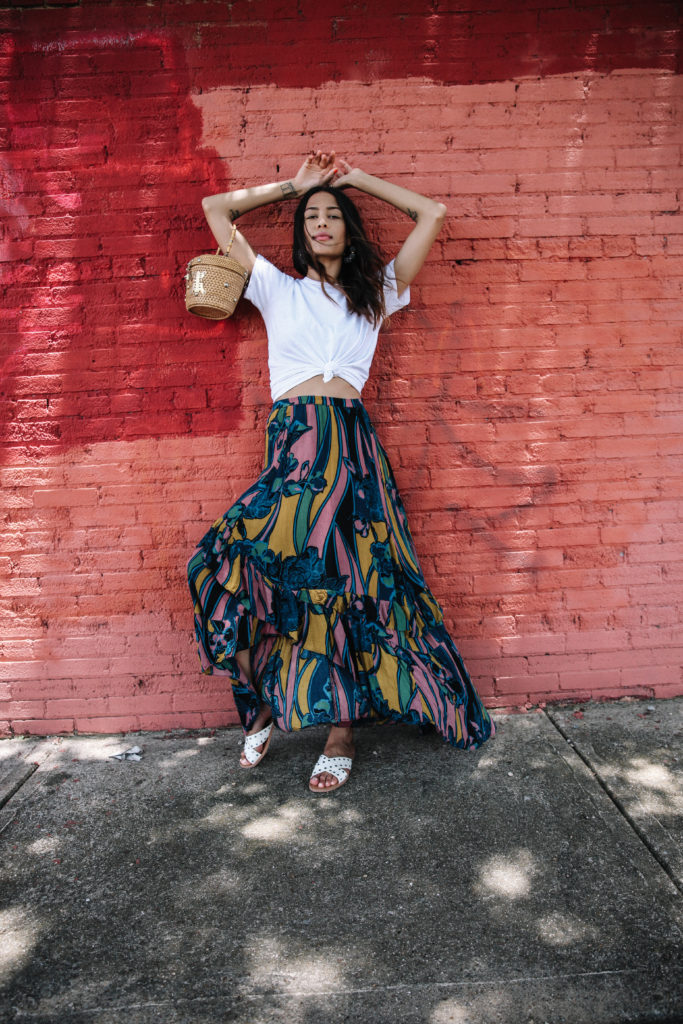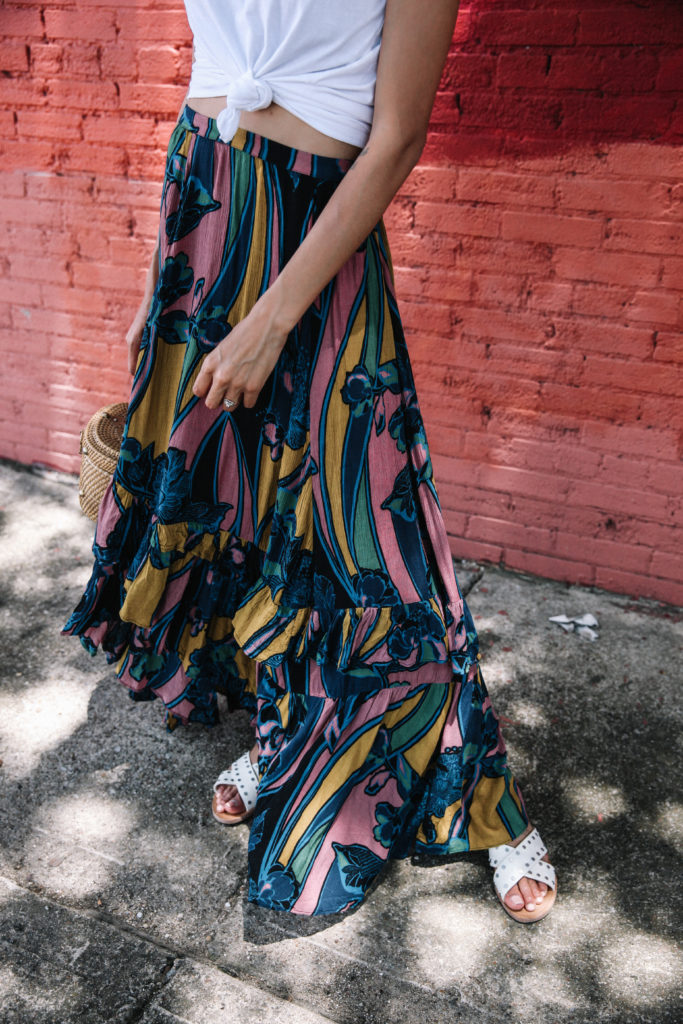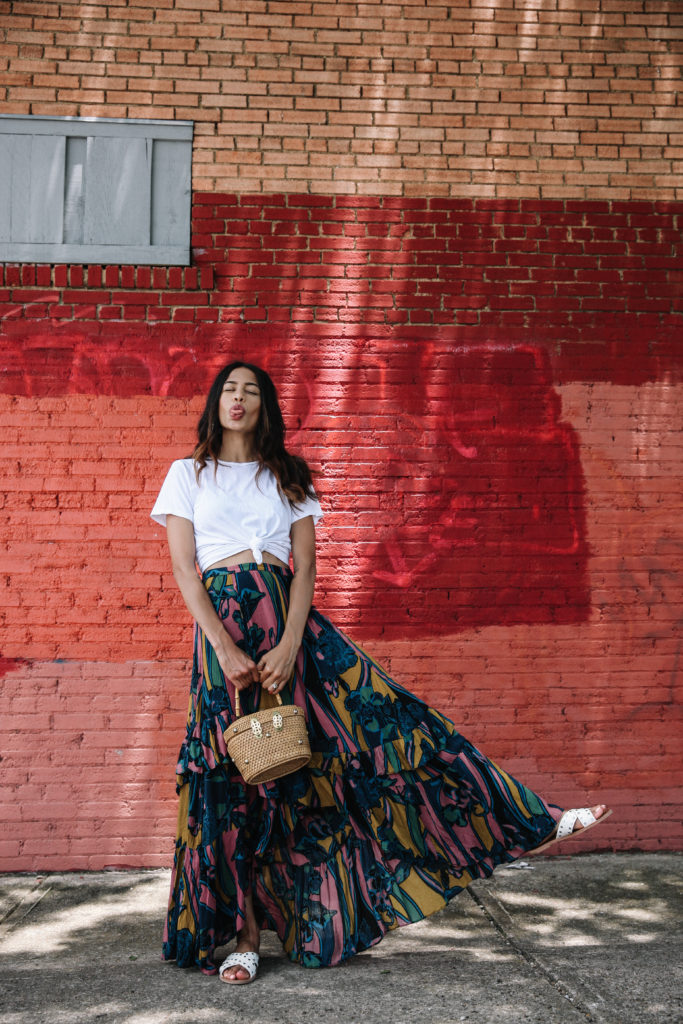 Similar White Tee  //  Skirt (also comes in pink!)  //  Sandals  //  Pom Pom Earrings  //  Vintage Bag – Similar Here, Here, and Here
One of the reasons why I love clothing so much is it's ability to transform how you feel instantaneously. You can be anything you want for a day and translate that feeling to the world by just by getting dressed. Sometimes, I can get stuck in a style rut and end up repeating similar versions of the same outfit day after day. I'm all about having a "uniform" that works for you, but when coming up with an outfit starts to feel like a chore it's time to get outside of your comfort zone and reset your wardrobe cache.
I WISH I COULD PULL THIS OFF…
How many times do we say this to ourselves? I held off on buying a pair of culottes for the longest time because I thought they didn't work for me. In reality, I wasn't choosing the right pair (read: length / rise / material) to suit my body and my style. After trying on a few pairs in materials that were familiar to me like denim, I found a pair that I absolutely love.
CATALOGUE YOUR INSPIRATION…
I've been using Pinterest and my Instagram "save" button to catalogue outfits, colors, and "moods" that I love to inspire me when it comes time to put outfits together or even go shopping. I notice that if I don't do an inspiration crash course before doing these things, I tend to gravitate towards buying different versions of things I already own. Sometimes it takes a little bit of self-discipline to push outside of my own comfort zone.
I WANT TO FEEL LIKE _____ TODAY…
Sometimes the best way to approach putting together an outfit is by trying to create a "vibe" or a mood, and not a look. I do this a lot when I am really inspired by a movie I just watched – old French and Italian films are my favorite! I go from wanting to feel like a 60's French free spirit on vacation in the south one day to wanting to recreate a 90's white tee and blazer moment the next. It's a good way to challenge your approach to getting dressed.
IT'S ONLY FOR A DAY…
This is something I remind myself of when I'm not so sure about a look. Maybe you're pulling something out of the depths of your closet and giving it one last try before it's off to Goodwill, or maybe it's a new purchase that you've been eyeing up and are finally making the plunge to buy. Trying something completely out of your comfort zone makes your look feel fresh and new, and can give you a little confidence boost. I try to constantly challenge myself to look forward and try new things, both in life and with my wardrobe. If all else fails, there is always another day outfit, right?