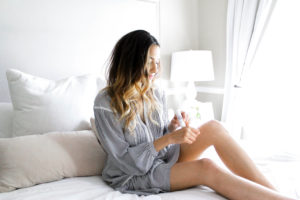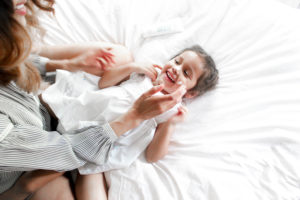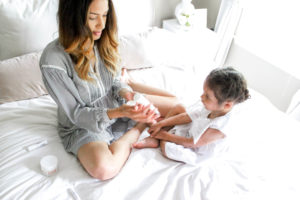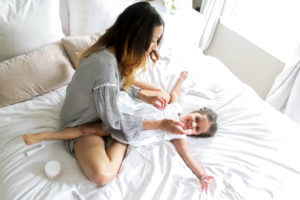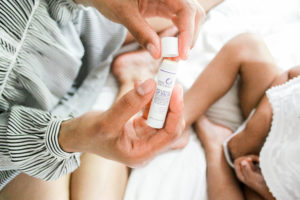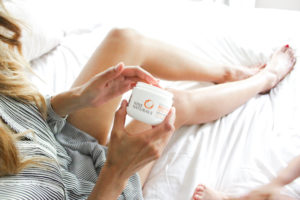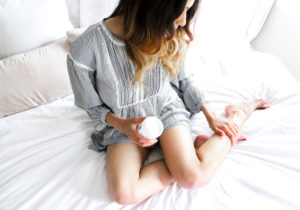 My striped dress can be found
here
 (and it's on sale!)
Spring is one of my favorite seasons! The sun is finally starting to show itself to the world and after being cooped up in the house all winter we have been taking full advantage of being able to spend our days outside. Luna is at the age where she wants to emulate everything I do, so when she sees me putting on sunscreen every morning (I've been a religious sunscreen user for years now) she always grabs the bottle and puts a bunch all over her face! I've always been leery about using chemical-laden products, but when I became a mother that feeling was even more intense and I went through a huge overhaul of all of my skincare products. So when Nine Naturals reached out to me and asked if I'd be interested in trying their products I was more than excited.
When I was pregnant, I would spend hours researching what was safe eat and what products were okay to use on my skin and in my hair.  Nine Naturals products only use natural organic ingredients, and I love that they even have an
glossary
of all of their ingredients and what they are used for on their website. For someone with sensitive skin like me they have quickly become a favorite! My hands have a tendency to get really dry, especially when it's windy outside. I've been using the
Repairing Body Balm
which has ultra-hydrating organic shea, cu
paçu
, and mango butter in it and it has completely transformed my dry winter hands. Their
vanilla + geranium belly butter
is also great for pregnant moms to help prevent stretch marks, and I've been using it postpartum as an ultra-rich moisturizer! Another favorite of mine is their
deodorant
. Since I'm still breastfeeding, I've been really discerning about what I put on my own skin. Nine Natural's deodorant is all natural, non toxic, and aluminum free.
Nine Naturals has made it so easy to make healthy skincare choices for myself and my little ones. I love that the next time Luna reaches for my
sunscreen
in the morning I don't have to worry!
I hope you all had a great weekend!